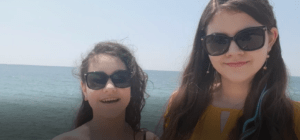 On Sunday, Tiana and Ema's new vlog, called "Vlog that should have been about Tiana's new song" was published. The idea of ​​the video had to be, in the biggest part, Tiana's new original. Things didn't go as expected, since I (Ema) deviated a little from the topic and forgot to talk about the song. Really attracted by the view and … by my hair, it seemed like the song didn't even matter anymore. Which is definitely not right. So, I am here today to fix my mistake, only after I explain you better what happened in the vlog. You can watch it here if you want an overview of it:
https://www.youtube.com/watch?v=fkyBwPbqHy4
or here:
https://www.youtube.com/channel/UCXd4Nh1G1tngZVB6hJmU_8g
The sea, the shores, the spectacular cliffs, the view were purely wonderful and I couldn't not film them! The sea was looking brilliant, the water was warm, the sun was shining and I just couldn't miss the occasion to them. So, I filmed them… a little more that needed. Then, the cliffs were looking so sharp and dangerous and I couldn't resist the temptation of climbing them. So, I climbed them.. a little bit more than needed. Finally, my hair, gorgeous, raw beauty, love at first sight… it was way too wonderful to not be filmed. So, I filmed it… a little bit more than needed! Trust me, if you were in my place, you would have done the same.
Since I owe you the information about the song, that I didn't say in the vlog, I am going to say it here! Tiana's new song is an original written… by me! But I think that you already know this! The lyrics and the melody line were made by me, but the orchestration was made by Daniel Nicolae, person that's been working in this domain his whole life. I'm very proud of what Tiana's second original turned out to be and… that's mostly because of her music genius. It made the song one of the best songs I've ever heard in my life and I'm not only saying this because I wrote it!
"End Now", the original's going to come out in the next few days. After its release I'm going to write an article that describes what the song REALLY is about. So, stay very tuned for what's to come!